There is no doubt that every women should have at least one dressy coat in their wardrobe. The medium brown, aka camel or some call it squirrel colour is so versatile, so I would highly recommend choosing this neutral shade. It is also important to mention that it might not be the best colour for everybody. If it's not yours, you can choose a grey one instead, or if you can't let it go, you can always add a big scarf in one of your best suited colours so the camel shade is not close to your face.
Investing in a quality piece is crucial. There are so many great fabrics out there, but getting a wool coat will benefit you in so many ways. Because if you found the one it will:
keep you warm even on the coldest days of winter
last for almost a lifetime
and you can wear it with so many outfits.
So speaking of which, let's see some examples on how to style the camel coat: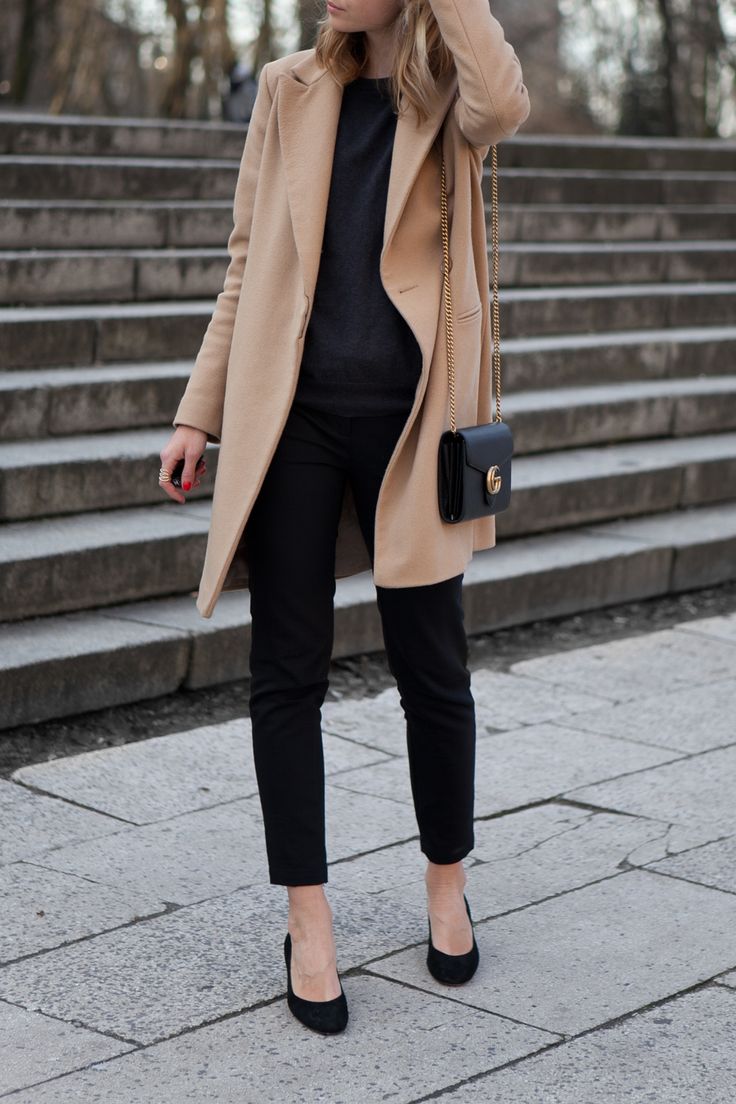 This first option is the simplest yet the greatest. If you like black all over looks, just throw your camel coat on top and you instantly broke this otherwise monochrome look.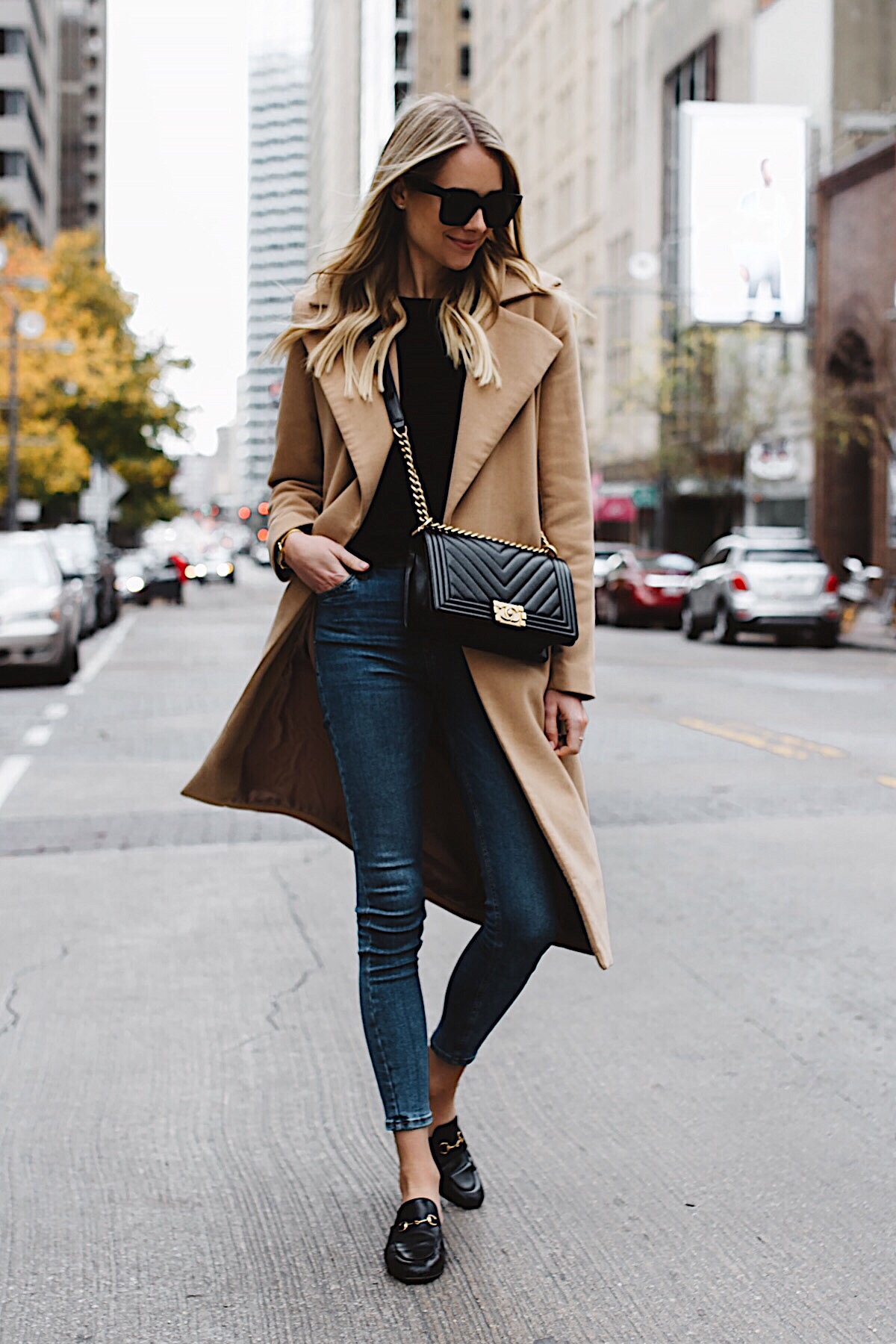 This one must be one of my favorites ever. All you need is a pair of blue skinny jeans, maybe a black cashmere sweater, a pair of mules, your everyday black crossbody and finally your camel coat. And maybe a nice pair of sunglasses.
One of the trendiest colour combos recently are grey with beige/brown. They even made a new name for this colour: greige = grey + beige. Fun, huh? First it sounds weird, but believe me! Ever since I tried it, I am so in love. Adding a pair of leather pants and over the knee boots will make you stand out from the crowd.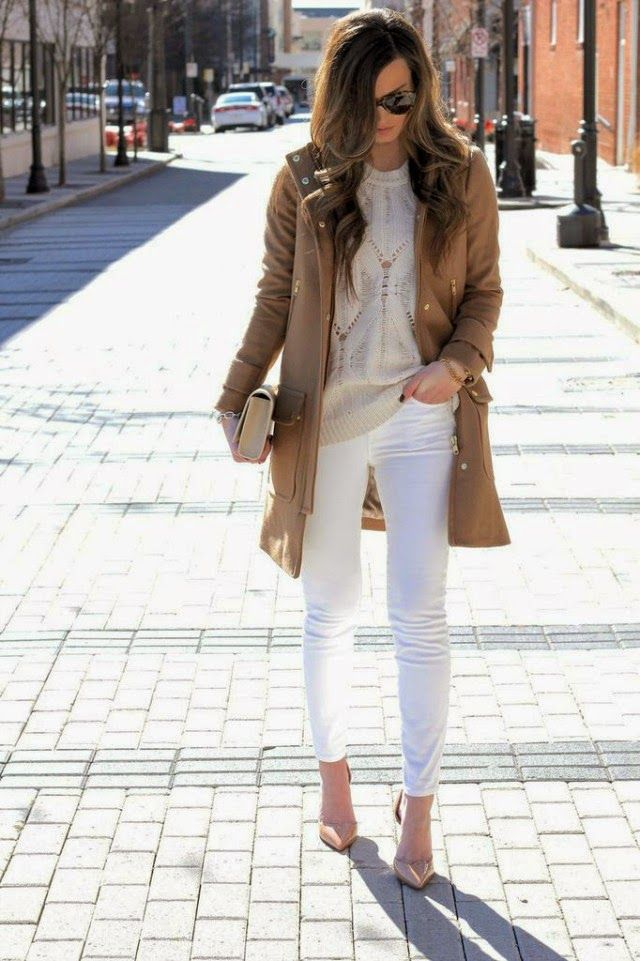 This is another great look to try. Who said winter is all about dark colours? It surely doesn't have to be. Get your white jeans out of your wardrobe and put on a nicely knitted sweater. To put the cherry on the cake choose a nude coloured heels to complete the outfit. Easy as that.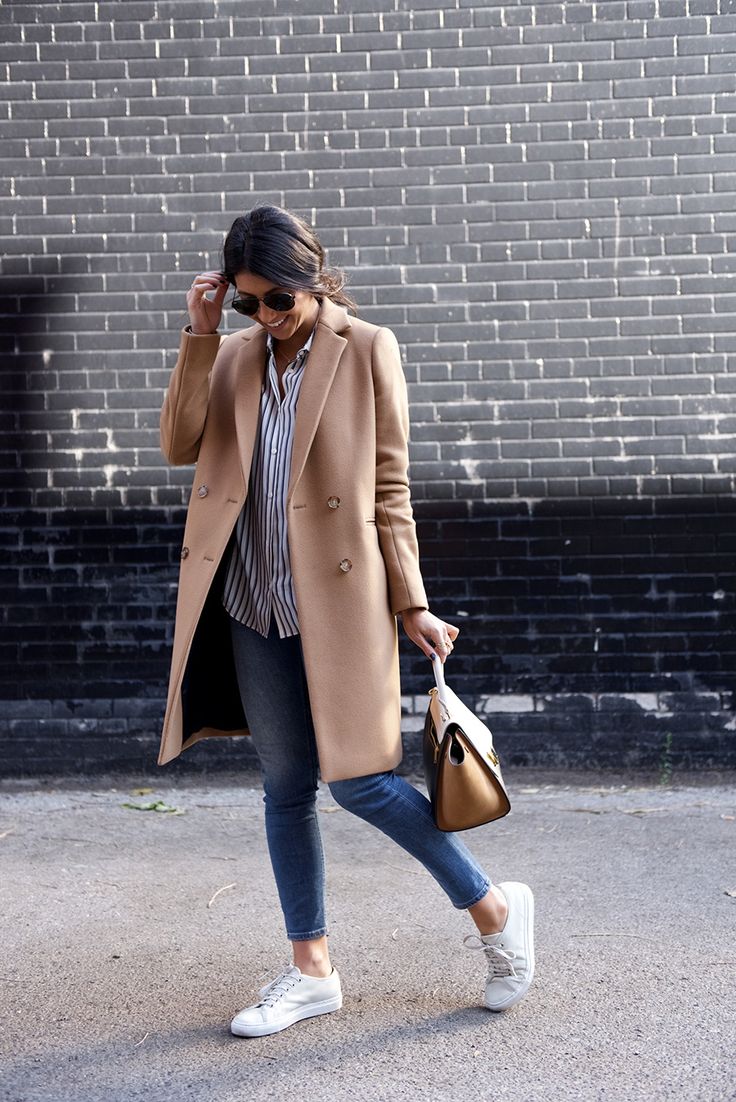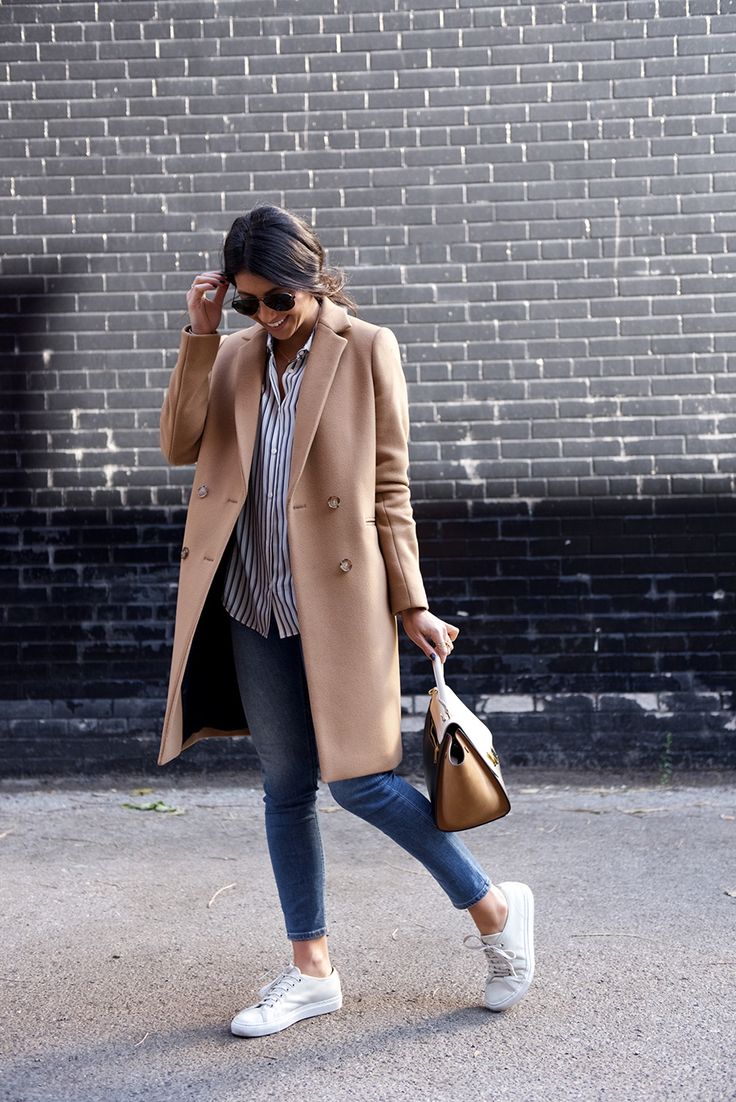 I think of this as a laid back weekend look. Don't think too much, just put your striped shirt on, pair it with jeans, white trainers and a similar coloured tote.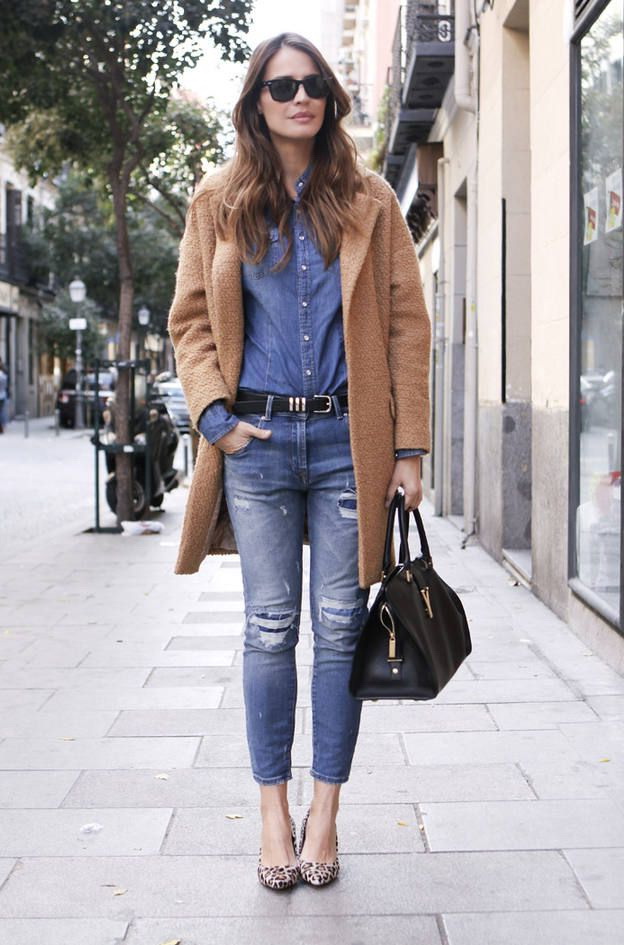 The next look is a little more adventurous but still manageable. Who else is into denim on denim? Me! Make it more fun with a pair of animal printed heels. All ready to go!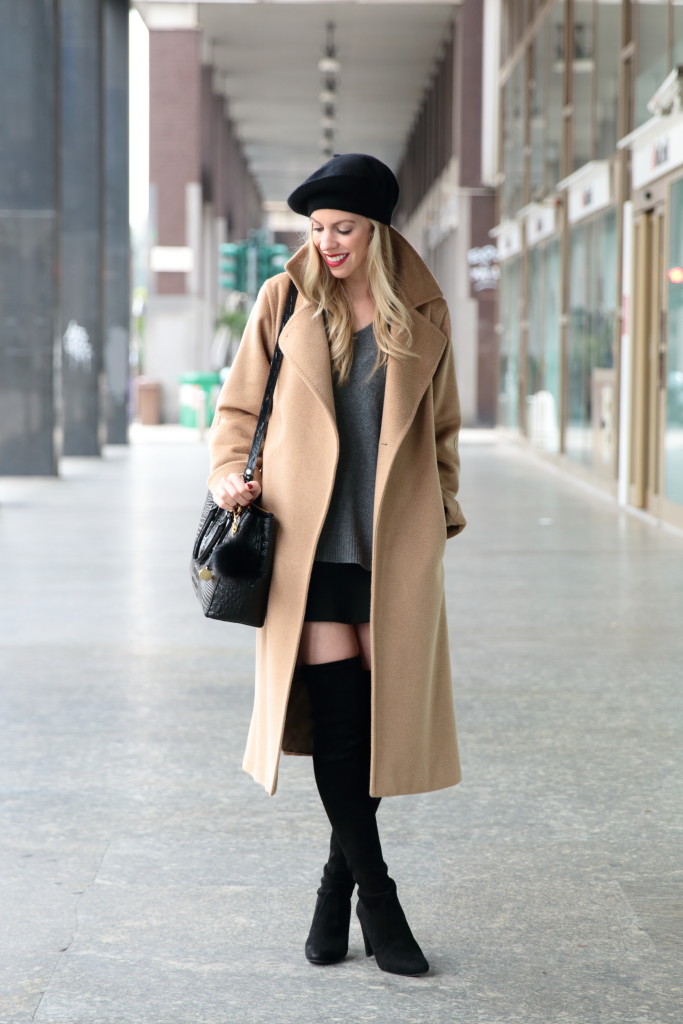 Our last outfit is on the elegant side. Camel coat with otk boots are a big hit. If you pair these two you are already a winner. But wearing them with a skirt and sweater, or more, a sweater dress just gives that extra touch.
So, what do you think? Are you already a camel coat fan just like me? If your answer is yes, or even if it's no, check out this great selection of camel coats selected just for you. Or if you like, we would love to see how you styled your wool coat so share it in the comments.
*All images are from Pinterest.