Finally it's Sweater Weather again! Well I think this must be my favourite season of all, but since I'm in Arizona right now unfortunately I'll miss almost everything about it. Almost – because I happened to hop in Starbucks to get a Pumpkin Spiced Latte last week – but to tell you the truth it was not the best experience as it was like 100 degrees outside..
So since I'm just dreaming of that crispy fresh air I thought I'll round up a post about cosy, warm oversized sweaters and give you a few tips on how to style them this Fall.
TURTLENECK AND SKINNIES[dahz_framework_empty_space space="30px"/]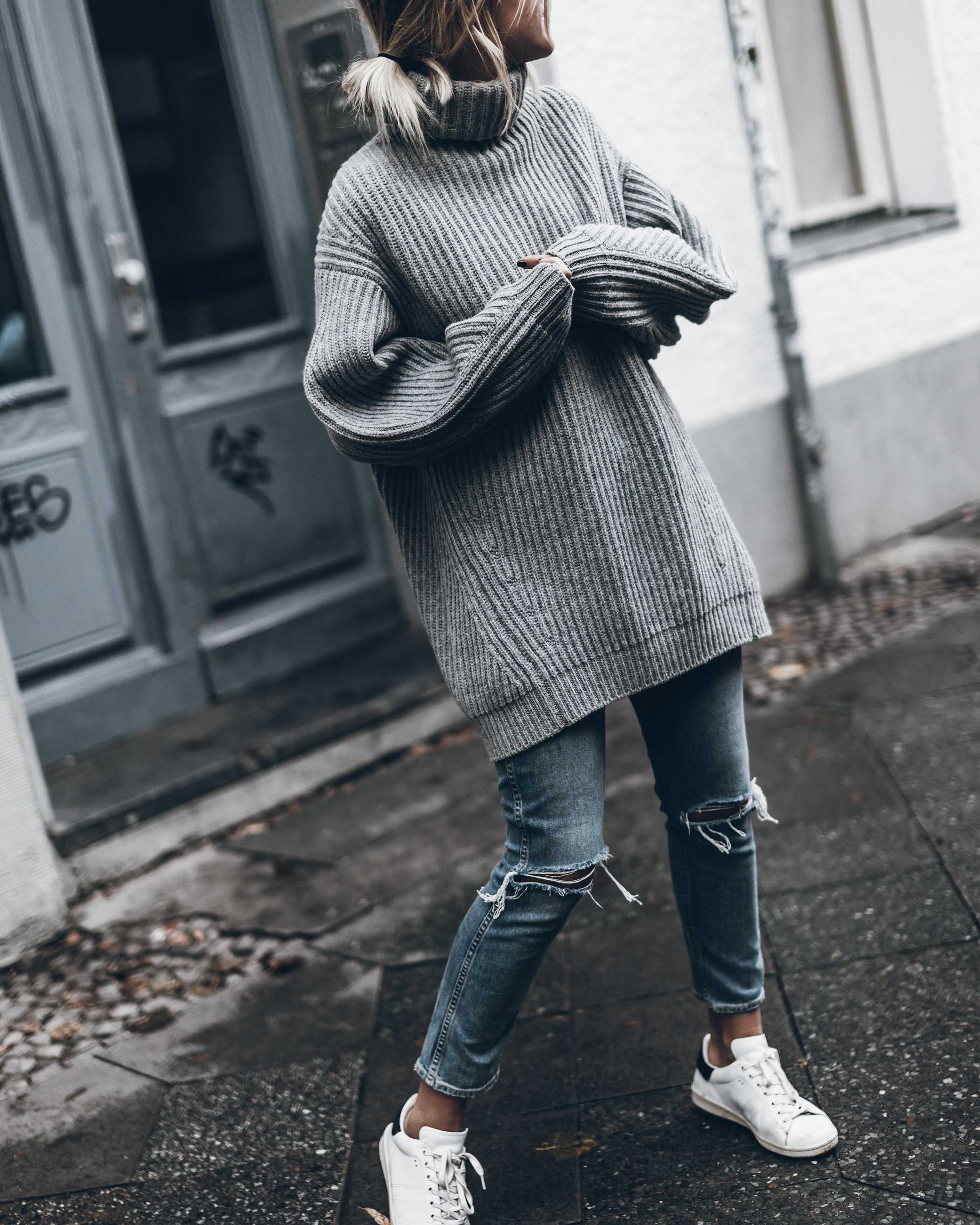 I'm a huge fan of oversized pieces lately – the bigger the better. I bought my first oversized sweater maybe 2 years ago and I'm still in love it with it. It happens to be a turtleneck. I love to pair it with a pair of skinny jeans and put on my everyday trainers. I love the contrast between the big and baggy pullover and the skinny trousers. If you wanna make it more sophisticated just change your trainers to a pair of stilettos and you're good to go.
SHOP FOR OVERSIZED SWEATERS AND SKINNY JEANS
SWEATER DRESS AND OVER-THE-KNEE BOOTS[dahz_framework_empty_space space="30px"/]
I've been looking for the perfect over-the-knee boots for a while now but haven't found the One just yet. But once I do I will surely try this comfortable yet elegant combo out. It is super easy to put together. You only need two or three pieces of clothing and there you are. I would suggest to choose one quality piece to add, for example a nice shoulder bag or a tote.
SHOP FOR SWEATER DRESSES AND OVER-THE-KNEE BOOTS
OFF-THE-SHOULDER SWEATER[dahz_framework_empty_space space="30px"/]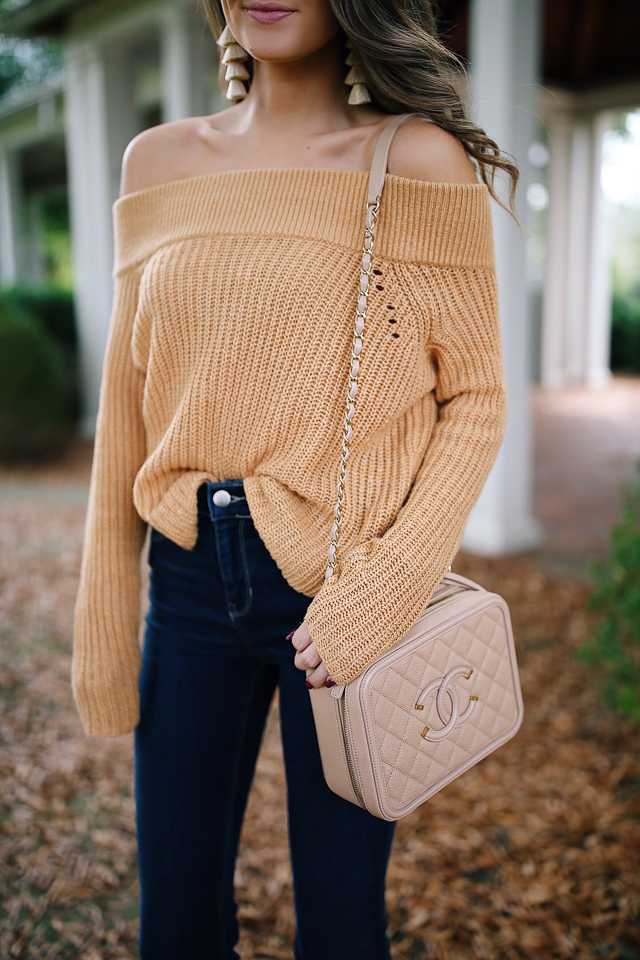 Off-the-shoulder tops are in trend for quite a while now and seems that they are not going anywhere soon. But why would they? They look so sexy on almost every body type. Even if you pair it with jeans and your snow boots, it gives your outfit that feminine vibe.
But here's my practical advice: you might need to throw on a coat or a warm scarf around your neck when it's below 32 degrees to avoid getting a bad cold.
SHOP OFF-THE-SHOULDER SWEATERS
OVERSIZED CARDIGAN WITH SATIN CAMISOLE[dahz_framework_empty_space space="30px"/]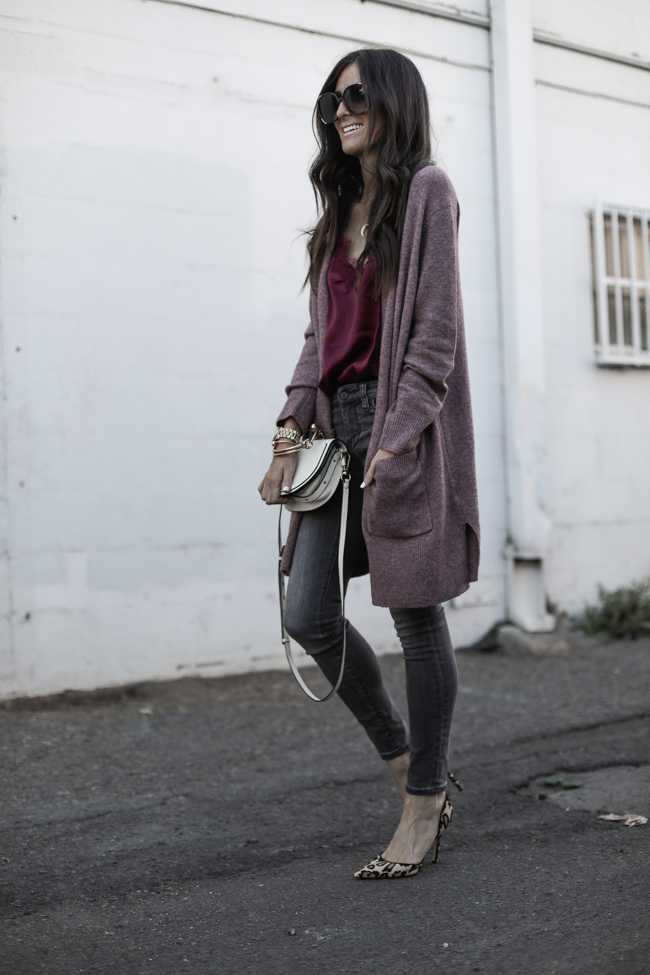 Cardigans are nice versatile pieces in Fall (and almost every season). If the weather is warmer you can take them off and when it cools down throw back on. Pinterest is full of satin camisole outfits since this Spring. So dig in to your wardrobe and put it under your long, chunky knit cardigan, add a nice pair of trousers or skinnies, and your favourite heels or slipons and you're ready for your date.
SHOP FOR OVERSIZED CARDIGANS AND SILK CAMISOLES
V-NECK SWEATER AND LEATHER LEGGINGS[dahz_framework_empty_space space="30px"/]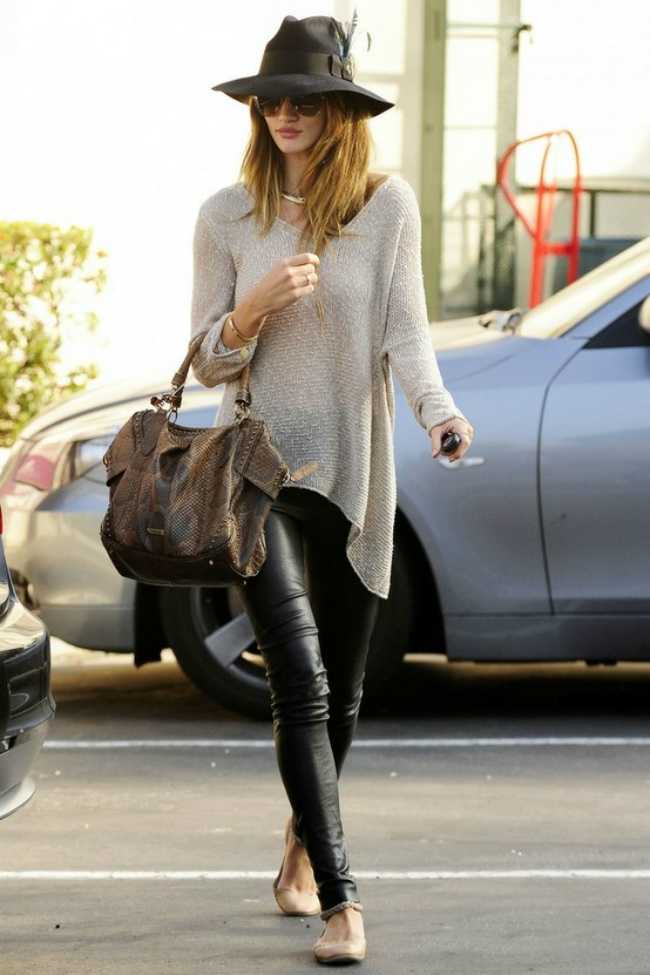 Leather is Fall's number one favourite. If you choose to pair it with a neutral v-neck sweater and ballet flats, try to add a little more character with a big statement bag, plus a nice wool hat as Rosie Huntington did here.
SHOP FOR OVERSIZED V-NECKS AND LEATHER LEGGINGS
SWEATER WITH PLEATED SKIRT
Last by not least… This outfit really gets me every time I see it. First of all I love the grey on grey theme so much, secondly I adore how she matched two very different textures in her look. The skirt is so smooth and light while the chunky, heavy sweater elevates this to a whole new level. Just pure perfection!
If the silver skirt is too much you can always opt a neutral coloured chiffon instead.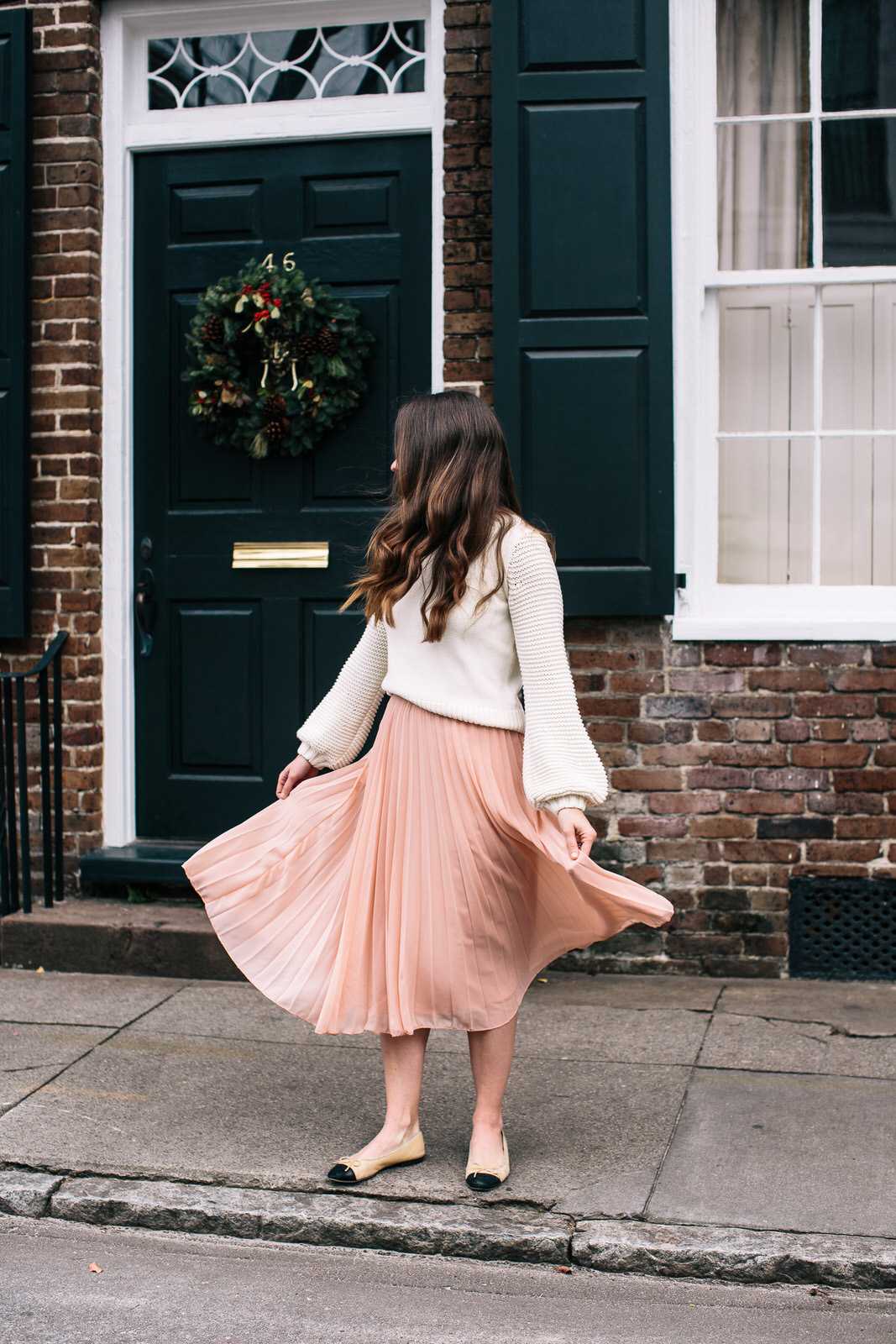 SHOP FOR SWEATER AND PLEATED SKIRTS
HOW TO ACCESSORIES OVERSIZED SWEATERS
Normally these outfits doesn't necessarily have to be accessorised but if you want to achieve a more dramatic look – go for it! Choose a bold pair of heels, a big blanket scarf, a nice statement bag or a wool hat or beanie to complete these wonderful looks.
SHOP FOR ACCESSORIES
I hope you will find your favourite ones here. Let me know if you know more exciting ways to wear your oversized knitted pieces.[dahz_framework_empty_space space="30px"/][dahz_framework_empty_space space="30px"/]
[dahz_framework_border style="solid" color="#000000″ width="1″/][dahz_framework_empty_space space="30px"/]
[dahz_framework_banner title="PERSONAL STYLING SERVICES" text="STILL CAN'T FIND WHAT YOU'RE LOOKING FOR? REQUEST MY SERVICES NOW!" id="2367″ alignment="de-banner__center" url="http://styledbymeshy.com/services/" /]